Water in Icelandic Nature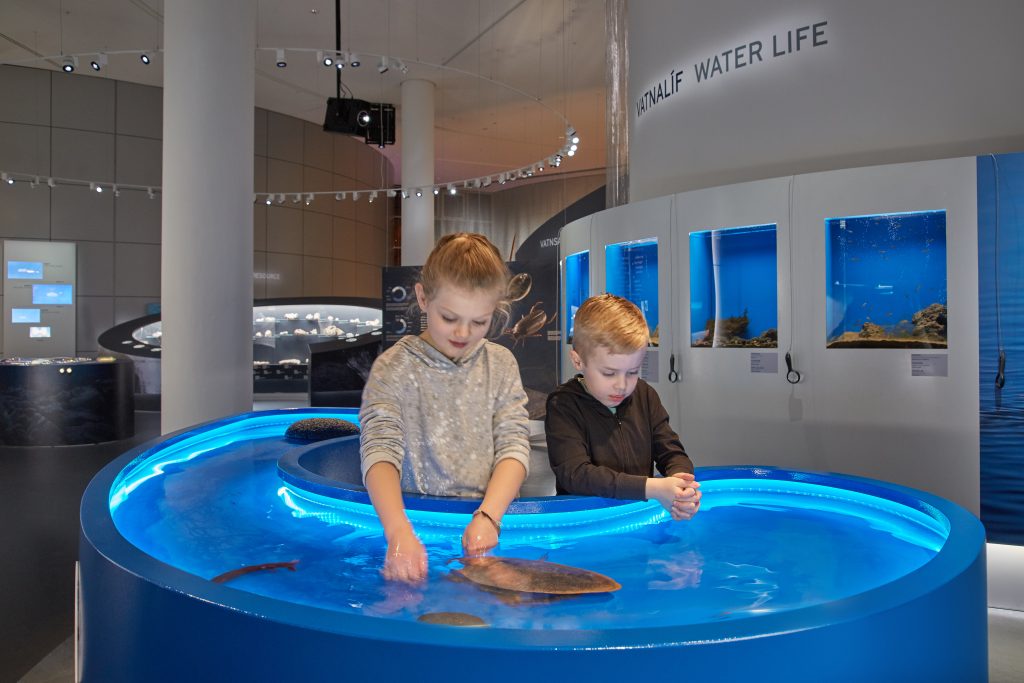 Water in Icelandic Nature
– the exhibition of the Icelandic Museum of Natural History in the building
Perlan, exhibiton center
, in Reykjavík, is an independent part the nature exhibitions of Perla norðursins ltd. "Wonders of Nature".
Water – all originated from outer space – is the foundation of life on Earth. Iceland is exceptionally rich in freshwater, a very prominent feature of the landscape and one of Iceland´s most precious natural element providing multitudes of services. There are glaciers and diverse wetlands, numerous lakes, rivers and waterfalls, clean and wholesome, hot and cold, silted glacial water, crystal clear spring fed water and direct runoff water. Given its latitude, young age and geographical isolation, Iceland has an unusually prolific aquatic biota, and some springs are home to globally unique examples of evolution.
The exhibition focuses on the diversity of freshwater, its myriad forms, its nature and importance for society, the diversity of the aquatic biota, and the role of water in making and shaping of the land.
The exhibition is visual, lively and constantly evolving. Special emphasis is on interactive participation with the latest multimedia technology.
The exhibition is tailored to the needs of variety of visitors – individuals of different nationalities are welcomed, as are families and groups. Museum educators take special care of school children. All school children in Iceland are invited to visit the exhibition to enjoy and learn about the wonders of water.

First and foremost, the exhibition is designed to inspire affection for the natural world and to inform about the importance of water as the foundation of all life and the need to use and treat water in sustainable way as a vital prerequisite for future prosperous life in Iceland and on Earth in general.
Red-Dot Award
Three installations by the Icelandic multimedia design studio Gagarín at the exhibition Water in Icelandic Nature received the Red Dot award 2019 for design and production. The installations were judged to be "Best of the best" in the category "interface design and user experience" and the award was given for: the audio-visual instal­lation "The Waterfall"; the real-time monitoring of rivers "The Meters" and the interactive exploring station "The Ecosystem Viewer", all designed to capture different aspects of the exciting world of water.
The Red Dot international design award is one of the most sought-after seals of quality for good design.